Please don't hate me.
---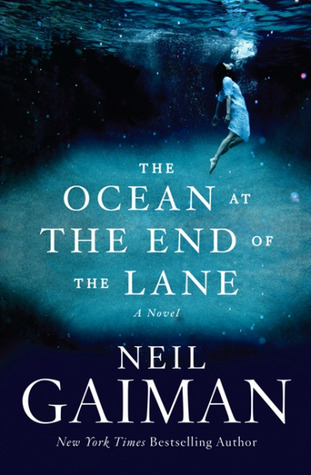 Sussex, England. A middle-aged man returns to his childhood home to attend a funeral. Although the house he lived in is long gone, he is drawn to the farm at the end of the road, where, when he was seven, he encountered a most remarkable girl, Lettie Hempstock, and her mother and grandmother. He hasn't thought of Lettie in decades, and yet as he sits by the pond (a pond that she'd claimed was an ocean) behind the ramshackle old farmhouse, the unremembered past comes flooding back. And it is a past too strange, too frightening, too dangerous to have happened to anyone, let alone a small boy.
Forty years earlier, a man committed suicide in a stolen car at this farm at the end of the road. Like a fuse on a firework, his death lit a touchpaper and resonated in unimaginable ways. The darkness was unleashed, something scary and thoroughly incomprehensible to a little boy. And Lettie—magical, comforting, wise beyond her years—promised to protect him, no matter what.
A groundbreaking work from a master, The Ocean at the End of the Lane is told with a rare understanding of all that makes us human and shows the power of stories to reveal and shelter us from the darkness inside and out. It is a stirring, terrifying, and elegiac fable as delicate as a butterfly's wing and as menacing as a knife in the dark
---
One word for the book: Bizzare
The ocean at the end of the lane, when I hadn't read it, felt like one of those pre-eminent and magical books that I just needed to read. Raving reviews, nothing but five stars and the excessive hype was one reason I picked it up. Unfortunately, I am incredibly disappointed. In Fact, the only thing I admired about the book was the beginning of the story and Neil Gaiman's subtle yet beautiful writing. 
The book starts out with the narrator visiting a funeral and ending up in his old house where he spent his unnatural childhood. He then remembers his childhood friend, Lettie Hempstock, who claimed the pond behind her house to be an ocean. He stops at the house where Lettie had lived, where he meets a family member, and slowly starts recalling his forbidden ( also, very weird ) past. Twenty pages into a book, It felt like it was a poignant story of a bad childhood , like it was a story of horrifying experiences. And to be honest, that would have been way better. But then the strange fantasy element hit the pages, and It ruined the whole atmosphere of the book. Throughout, It was like I was waiting for the concept to make any sense, but it never did.
Crazy supernatural being who leaves money for people in unpleasant ways?
A housekeeper who is a ...worm? Who came into the house through the foot of the narrator?
Varmints, Hunger birds, and Fleas..?
Seriously?
I felt like I was reading someone's nightmare. Nothing clicked to me. It disturbed me, it bored me and it was unbelievably underwhelming. The book is of 181 pages, and It took me a month to complete it. It dragged on and on and took me to a miscellany of a fairy tale and a horror movie. However, of course, taste and views differ and I am well aware that The book is loved by a huge number of people. I wanted to be one of them, but It didn't work out that way. I'm in no disillusion that Neil Gaiman is not a good author, I loved the writing and some of his quotes, but I was not fond of the execution and the story. 
"I do not miss childhood, but I miss the way I took pleasure in small things, even as greater things crumbled. I could not control the world I was in, could not walk away from things or people or moments that hurt, but I took joy in the things that made me happy."
"I liked myths. They weren't adult stories and they weren't children's stories. They were better than that. They just were."
"That's the trouble with living things. Don't last very long. Kittens one day, old cats the next. And then just memories. And the memories fade and blend and smudge together."
---
Hii. Did you guys like the book? OR am I the only person who dislikes it? I'd love more recommendations for Neil Gaiman's book, I do want to experiment before I come to a conclusion. And I apologize for being so inactive, I'm working to improve myself! Hope you all are having a good day!