We love books, We love people who read books, We love making a person read our favorite books but WE DONT LIKE LENDING OUT BOOKS. Mainly due to the heartbreaking feeling of being away from our most prized possession for so long, AND due to the harsh treatment that our books are subjected to, by fellow hooligans.
We mostly lend out our books to a few chosen, trusted people but when even they disappoint us, it truly hurts. A lot. I've had some pretty horrifying experiences, and because of that, I've decided to establish a set of rules for the people I lend out books

to. (I mean, normally I wouldn't, but I'm kind and sometimes my poor heart melts and it's hard to say no. #problemsofbeingakindbookworm) 
My Book is Not your Coaster. 

People put objects on the books and that's OK to a certain extent but if you start putting containers with any sort of liquid in it or any food item, it might spill. And when it spills, you better pray to god that I leave you in one piece. (haha, just kidding. NOT.)

I'll Lend you a bookmark with my book because I'm so kind, and you're such a monster. 
  There's this thing called a bookmark. It was invented so that you could mark

the page

you're reading so that you know

from

where to start the next time you pick

it up

again. Buy it, use it, or ask one from me but DO NOT FOLD THE PAGES. I DON'T UNDERSTAND HOW PEOPLE DO THAT.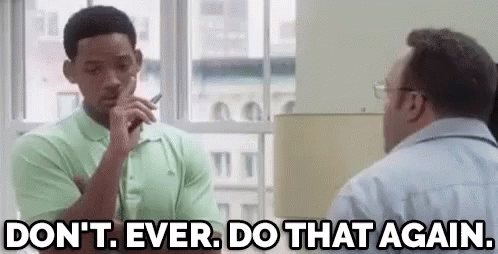 My books are like my babies, so how dare you bend my babies like that? 

Looking at all of you who bend the book all the way to the back. It ruins the spine of the book and then there is a crease on it, which is not acceptable at all. I don't want any creases on my book when you return it back. Is that clear?

You gave my book to someone else? Without My permission? You think you are qualified to do that?

You'll get hardbacks naked and you'll happily accept it.
 The dust jackets remind me that I've lent that book to someone so that I can

bother them

every five days, till they safely return it. Also, the jackets are delicate

and beautiful and you 'accidentally' rip it. Or use it as a bookmark inside the book. Sorry, can't let my dust jacket be subjected to your creativeness.
No dropping down my book, No writing in it, No stuffing it in the bag and don't even get me started about coffee stains in my book.   
Funny story. So three years back, my friend asked me if she could borrow the

fault in

 our stars, And A fault in our stars was a big deal for me but I still lent it

because she

really wanted to read it and I didn't want to

appear

mean. After three

months of

literally begging her to return my book back,

tfios

 was finally in my arms again. And I open it, and I see a coffee stain on one of the pages. She's not my

friend anymore

. 
Timely returns are appreciated, please suit yourself to this :

100-300 Pages – 30 days max.
          300-500 Pages – One and a half month.
          500 and above – Two months.
  If I'm lending a book to you that's my favorite, like it, love it but you can't love it

more than

I do. I know it's unreasonable, I know it's insane but you just can't. Because this has happened a lot of times :
       Me: Did you finish my book??
 Person: Yes, I LOVED IT, IT'S MY FAVORITE.  
Me:
In short, We don't want much. Just take care of our books and treat them with kindness. So if you follow all these rules, you're good to go. But if I get my book back, damaged and torn…Taylor Swift speaks for me :
Hii Guys, how are you all? I'm curious, have you ever had a book borrowing horror story? Do you have any such rules? Share with me in the comments section. Have a Nice Day Y'all.  
-Anushka