Being a Booknerd is hard.It's very hard indeed.We have to deal with all sorts of emotional traumas (We suffer through so many deaths) and physical stress (Sleeping at 4 in the morning after finishing a book and going to school/work the next day).Among these problems,the biggest problems giver is the non-readers out there (

Foolish Muggles,I call.)

 because some times they say spiteful things or show disregard towards our book,Which annoys the hell out of us.

So I have gathered here,a list of things that the muggles do which annoys us readers THE most.In other words a manual guide to attain your Death

if you say or do the things listed below.
---
1."If you have read all those books then why do you keep it? Throw some out!"
WHAT??? WHAT DID YOU JUST SAY?? HOW CAN I "THROW" BOOKS OUT??IT'S A CRIME!!!IT'S EQUAL TO MURDER!!IF YOU DON'T UNDERSTAND OUR SENTIMENT TOWARDS OUR BOOKS THEN I DUNNO WHAT YOU UNDERSTAND.I CANT EVEN-
AHHHHHHHHHHHHHHHHHHH
2.Peek over our shoulders to read our book.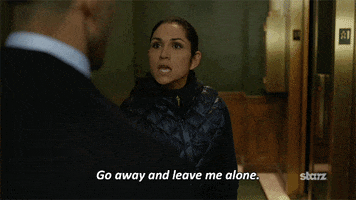 So the Person who does this is most probably bored because maybe their phone battery is dead  because of playing some game or they're just looking for someone to annoy.They'll peek over our shoulder and try to read our book as if they'll get what's going on in the story.It irritates us and makes us want to STRANGLE them.
3."Why are you wasting your time reading the book? Watch the movie when it comes out!"
Okay so I get this a lot.I don't understand that how can 'reading' be a waste of time and how in ANY way watching the movie is better? It sounds so dumb when you ask a person whether they have read a book and they reply with "No! But I've seen the movie and I'm a HUGE fan of it!"
          HUGE? YOU AREN'T EVEN CLOSE,IDIOT.
This actually happened:
Person: What are you reading?
Me: Harry Potter and The Deathly Hallows.
Person: OHH!! WHICH PART?
Me: Excuse me?
Me: Wha-what???? I can't even-THE BOOK ISN'T DIVIDED IN PARTS THE MOVIE IS YOU FOOLISH MUGGLE.
4.Fake read in front of us.
These type of people,ughhh. They'll take up any popular book ,then sit in a crowd and put the book in front of their face.Then they'll peep here and there to see if people are watching them read or not,because guess what?That's a fake reader!!!If they notice that the people around them are not interested at all,they'll be like " Oh hey girl! Have you heard about that new commercial? I wish I could tell you but I'm actually reading The Fault in Our Stars right now"
They should probably look around before they fake-read because if we spot them,we WILL prove how if you wanna read you fricking read and not talk nonsense.
5."Why are you crying?It's just a book! That character wasn't even real!"
He was real!!!He lived in my heart and he's not there anymore!!I'll cry if I want to,I'll shout if I want to and you can  judge all you want to but just because we have emotions and you don't doesn't mean you'll say spiteful things like "It wasn't real"
Thats it guys I hope you enjoyed it!! There were a lot of other things that annoy me as a reader but I think I have already talked about it in my posts (I'll link them below) I do have more of these though so let me know if you want a part two!!
love,
Anushka
Discussion post:Problems of a fangirl.